School Visits
Dear Media Specialists/Reading Coaches and Teachers
It's been several years now that I have had the opportunity to be a visiting author and share my first three books with children. I have had so much fun being a visiting author at many schools, public libraries, Literary Festivals, book stores and numerous other events such as a "Project Child Conference" in Orlando, FL. and a "Golden Apple Teachers Chautauqua" event, and an Early Learning Coalition conference just to name a few. Having been chosen as the "Lake County Read's Children's Picture Book Author for 2007" was another great honor! I was even interviewed by the "kid-casters" on the Disney Radio station WDYZ AM 990 in Orlando FL. WOW!!!! I was also interviewed on the evening news after doing a book signing at a Barnes and Noble Book Store (the camera does add about 30 pounds right?!) This past summer I even had the opportunity to do a recording of my "There's a Frog Trapped in the Bathroom" story at a recording studio (Stones in the Sand Recording) in St. Augustine Fl) so I now have C.D.'s of the frog book available…great for beginning readers to read along with the author while looking at the book!. It was so much fun, and…..I have to mention….the recording engineer used to work with people like Paul McCartney and the Rolling Stones…..a little intimidating but lots of fun! I plan to make recordings of each book in the future. What a GREAT experience this all has been! I must say though, being a visiting author and sharing my books in schools is my favorite part of being an author! After all....this is what it's all about....getting students to love to read AND write!! I absolutely love getting students involved in my program. Last year I had students come up with their own rhyming verse to a story I started with them. Their enthusiasm and creativity was amazing!
Check this out...
I prompted students with 2 verses to a story I was working on at the time called "There's a Gator in Our Gutter". (inspired by a summer of hurricanes here in Florida a few years ago)

This is what they came up with:
There's a gator in our gutter,
Disco dancing with a bug!
He's wearing polyester,
Doing the Hustle with a slug!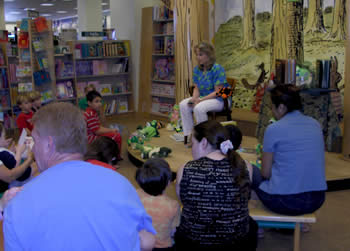 Okay…..the students MAY have had some help on the word "polyester", but none of the teachers would confess! Students were very excited about the verse they came up with! I do this activity using the same story and adding to it at each school I visit. At the end of the year I will send a copy of the entire story to each school so that students can see not only their contribution, but also what the students from the other schools added. I can't wait to see the complete story!
My presentation includes:
Power-point of my books,
From story writer to published author
Creative time; Students "creating their own verse",
Questions and answers. (Children are ALWAYS very interested in hearing about Anna Johanson, my illustrator who was only 13 years old when she finished illustrating our first two books! GREAT inspiration for aspiring artists!)
Last but not least, the "Frog Adoption" (Several names are drawn from students who pre-ordered a book to see who will adopt one of the stuffed frogs I bring, complete with an "adoption certificate" for the frog.
The cost of a full day author visit for schools within a 50 mile radius from Ocala is $400. If your school requires two days to fit in all the grade levels, the cost is $100 more per presentation on the second day. If you are interested in a total of only one or two presentations for your school, the price for that is $150 per presentation for schools within 50 miles of Ocala, or $150 per presentation plus travel expenses. I will do up to 5 presentations a day, and sign books purchased so they may be delivered on the day of my visit. I usually try to do my presentation with Kindergarten & first grade together, 2nd and 3rd grades together and 4th and 5th grades together (however many sessions it takes), but what ever works best for you is fine. I can also do some quick visits to classrooms if you like, time permitting.
That about wraps it up….if you have more questions, don't hesitate to call or
e-mail me. If you would be interested in scheduling an author visit for your school, please contact me as soon as possible. I will send you a packet with more information. I look forward to hearing from you.
"Hoppy" Reading!
Susan Snyder,
"Rhyming Writer"